"And then there's Sara Davis. This girl has one of the most gorgeous voices I've ever heard in this town and her four-hour (!) gig at Gentry on State was pure magic. Lush and romantic, silly and ribald, Davis captivated the entire time - and caused me to use up a sick day the following morning since I ended up staying the entire night, unable to tear myself away."
Jeff Rossen, Cabaret Scenes, September 1999
This performance was named one the "Top Ten Shows of 1999" in Cabaret Scenes Magazine.
Taking A Chance on Love: The Vernon Duke Story -- Unlike his contemporaries, Vernon Duke never saw his name become a well-known one like the Gershwin brothers or Cole Porter, and that may be due in large part to the fact that although he had a long career as a composer for musical comedies and revues, he wasn't exactly a hitmaker. But there's a big difference between a hit song and a quality work -- heck, just give a listen to what passes as popular music on today's radio; geez, when did I become my parents? -- and through the 40-some years he wrote songs for the stage (but earning a living in the early years by recycling underscoring for films and writing classical works under his real name, Vladimir Dukelsky), Duke crafted his share of winners. This year marks the 100th birthday of Duke, who died on January 17, 1969, and the occasion brings together for the first but it is certainly hoped not only time two of this town's most engaging performers, Sara Davis and Justin Hayford, in a celebration of both Duke's works and the art of cabaret itself.

The effortless ease with which Davis and Hayford merge their talents in "Taking a Chance on Love: The Vernon Duke Story" is at once captivating and makes one feel as though the two had been performing together for ages. Davis, who combines an elegant sophistication with an earthy sensuality, and Hayford, he of the wry wit and urbane joie de vivre, make ideal collaborators, each knowing when to give over to the other and when to take the lead. And when in comes to between song patter and onstage banter, well, you'd be hard-pressed to find a more natural and entertaining success than what Davis and Hayford achieve in this setting. It's quite evident that the duo enjoyed their research ("We read a whole book about him," Davis confesses while doing her best Carol Merrill presentation of said tome), and between songs we are treated to a fine crash course in Duke's life and work, sometimes being informed amid hysterics.

But "Taking a Chance" is about Duke's music, and with the unique and graceful voices that Davis and Hayford each possess and their way of embracing and shaping a lyric, Duke's melodies and his collaborators' words are handled and presented with love and more than an occasional wink of the eye. Whether it's the tender introspection Hayford uses in pairing Born Too Late/The Love I Long For or Davis' sterling take on Now, the bounce of the opening Not a Care in the World and the mounting swing of the title song and Duke's best-known work, the silliness of Duke and Ogden Nash's children's work, "Musical Zoo," which becomes an uproarious art song cycle here or the joy that flows out of the title song to "Cabin in the Sky," the story of Vernon Duke and his music is one of the most entertaining shows that we'll see this year, and Sara Davis and Justin Hayford give three knockout performances, hers, his and theirs. (****)
Jeff Rossen, Cabaret Scenes Magazine, June 2003
This performance was named one the "Top Ten Shows of 2003" in Gay Chicago Magazine..
"Sara Davis, In Concert at Metropolis Center - Sara Davis has always inspired wonder while watching her perform, but onstage at the Metropolis Center she was nothing less than captivating. Effortlessly shifting between soaring ballads, winsome love songs and high comedy, Davis proved that she's more than a fine stage actress; she's a topnotch solo performer who needs nothing more than a piano behind her and a song to sing."
Jeff Rossen, Top 10 of the Year in Gay Chicago Magazine, December 27, 2001
This performance was named one of the "Top Ten Shows of 2001" in Cabaret Scenes Magazine.
Named as one of the Top 10 Shows of 2002 in Cabaret Scenes Magazine, Gay Chicago Magazine, and Cabaret Hotline Online.
"I'm (Artificially) Hip!"/Sara Davis -- "Weary of the sorry place my head was in," Sara Davis sings in the opening song of her show, "I gave myself to modern medicine." Too bad so many of the curves in life's road can't be so smoothly maneuvered. The "state I was in" Davis sings of in the title song penned by Cheri Coons and Chuck Larkin is the deterioration of her hip due a rare infection during her teenage years. And while the saying tell us to make lemonade when life hands us that fruit, Davis does the singer's variation on taking on beverage duty: She uses her physical lemon as the theme for a show. And the quencher that she serves up in "I'm (Artificially) Hip!" is a sweet, soothing blend, one that tickles like fine champagne and makes us giddy from the strength of Davis' 100- proof talent. Davis has a lush soprano sound that surrounds you and then cradles you in its embrace.
Unless one has been through a similar physical situation, it's hard to imagine what Davis, at such a young age, must have endured both physically and mentally, but she's emerged stronger and, as she demonstrates here, with a finer appreciation of life. "Tired of sitting on the sidelines," she says, and watching life become increasingly more difficult, she illustrates her feelings with a tender read of Mary Chapin Carpenter's Late for Your Life. And when she finally made the decision to, as the say, go under the knife, her anxiety was eased a bit by a "cute anesthesiologist" who gave her an epidural he called "liquid courage" and which Davis used for a wildly comic and slightly naughty blend of You Do Something to Me/The Way He Makes Me Feel/Getting to Be a Habit With Me. Making the choice to do something that's long-lasting is illustrated is expressed in her warm and pensive examination of John Bucchino's Temporary.
Who of us has not been on the road to recovery in some form or another, whether physically or mentally? And that universal connection makes "I'm (Artificially) Hip!" even more inviting beyond Davis' warm and alluring voice. When she tells of the comfort she found in her cats upon her return and then punctuates it with Larkin's sensitive You Remind Me and talks of finding a new relationship with her parents as equal adults and then caresses Getting to Know You, waves of emotions cascade through the room.
Of course, Davis' road to recovery would have been easier, she admits, if she had boyfriend to help her around the house, but she's got really high standards, as she confesses in the show's second song written especially for her by Coons and Larkin, What Are the Chances?. But idealized love, Davis knows, is fine as long as you keep your vision based in reality, as in The Love I Long For.
Segueing into some fast-stepping breaks, Davis pays tribute to the physical therapists who put back on her feet in Pick Yourself Up/Put One Foot In Front of the Other, which is underscored by a nothing less than brilliant arrangement by musical director Chuck Larkin, and when she thought she'd use her rehabilitation time to learn some of the entries in the classic American songbook, songs like Don't Get Around Much Anymore/I Won't Dance/I Don't Want To Walk Without You/The Joint is Jumpin' proved a little too on the mark.
Accepting her new body part, Davis tells it I've Got You Under My Skin, but for all her tribulations, Davis knows that you have to Count Your Blessings, which ends Davis' intimate journey and one of the year's most captivating and richly voiced shows. (****)
Jeff Rossen - Cabaret Scenes Magazine, June 2002
Fresh from her all-expense paid trip to Providence Northeast Hospital in Columbia, South Carolina, "bionic chanteuse" Sara Davis took to the cabaret stage at Davenport's to share the story of her hip replacement surgery. As with any good cabaret show, Ms. Davis began the evening with a brief medical history before launching into her stories and songs.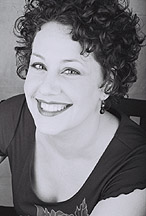 This truly was one amazing show. I am quite impressed at how Ms. Davis was able to take music from the American popular songbook and turn them into songs about major surgery. In this vein, "You Do Something to Me" (Porter), "The Way He Makes Me Feel" (Legrand/Bergman/Bergman), and "Getting to Be a Habit with Me" (Dubin/Warren) form a lively medley about the joys of anesthesia, while "Getting to Know You" (Rodgers/Hammerstein) becomes a song about getting to know your parents as adults. Of course, Cole Porter's "I've Got You Under My Skin" goes out to her prosthetic hip, and, ending the evening on a hopeful note, Ms. Davis performs a stunning rendition of "Count Your Blessings Instead of Sheep" (Berlin). She certainly proves herself to be one fine singer and a great actress in this one-hour show!
The incomparable Chuck Larkin did Ms. Davis' arrangements, and these, of course, are top notch. Mr. Larkin also provided the music for several of the songs in the show, including the outstanding title number "I'm (Artificially) Hip!" (Lyric by Cherri Coons).
Certainly, this four-star evening should not be missed! Ms. Davis will continue to share her medical history through song at Davenport's Piano Bar and Cabaret on Sundays in April at 8 pm.
Todd Schuman - Cabaret Hotline Online - April 14, 2002