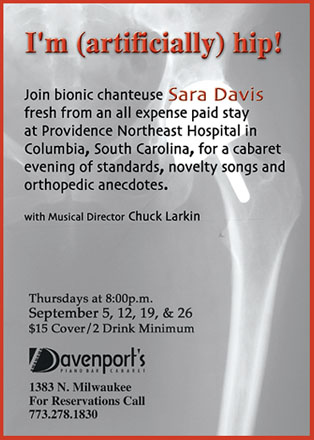 Diagnosed with osteoarthritis after an infection in her hip at age 17, Sara Davis underwent hip replacement surgery at age 31 on December 3, 2001. Iím (Artificially) Hip! is a lighthearted look at her experience and ongoing recovery. Selected songs include Iím (Artificially) Hip!, by Chicago songwriters Cheri Coons and Chuck Larkin, Donít Get Around Much Anymore (Ellington/Russell), Count Your Blessings Instead of Sheep (Berlin), Temporary (Bucchino), and The Joint is Jumpiní (Waller/Johnson/Razaf), with Musical Director Chuck Larkin at the piano.
Read what the press had to say about ďIím (Artificially) Hip!Ē
Listen to the title song by Chuck Larkin and Cheri Coons here.
For more details about the show or for information on how to book a performance of ďIím (Artificially) Hip!Ē, please send email to: information at saradavismusic.com.
NEW! I'm featured in an ad for hip resurfacing!